5-Star Review
I have looked extensively for a recipe for chicken parmesan, one that my husband would appreciate and one I could serve guilt-free on my Weight Watchers diet. This is a keeper, and he said it satisfied his need for spaghetti & meatballs. I did serve a side of spaghetti with it. I had no granulated garlic, so substituted 2 t. of garlic powder. Excellent and thanks for sharing. – Gerry
Ingredients Notes
Chicken – My favorite chicken to use is an organic boneless skinless chicken breasts. In my experience, the higher quality of the chicken, the tastier dinner is.
I use cutlets for chicken parmesan. Cutlets reduce cooking quite a bit. 
I place the chicken breasts between two plastic wrap pieces or in a plastic storage bag and pound them into cutlets using a meat mallet. 
If the breasts are enormous, you can cut them in half using a sharp knife.
Regardless, you want the chicken breasts to be on the thin side and all close to the same size because this helps the baked chicken parmesan cook evenly.
Breadcrumbs – When creating a healthier version of a classic, flavor is everything.
In the past, I used seasoned Italian bread crumbs. Those will create a tasty recipe, but I love to make a homemade seasoning mix to use with the breadcrumbs.
My absolute favorite seasoning mix to use in breadcrumbs for baked chicken parmesan is Italian seasoning, granulated garlic, onion powder, salt, pepper, and parmesan cheese. This seasoning mix is simple, but it's so good!
If you do use seasoned Italian breadcrumbs, then stir in some grated cheese to elevate the flavor.
I do not recommend using Panko breadcrumbs. In my experience, they don't coat the chicken entirely, and the coating falls off as it bakes.
Olive oil – A traditional chicken parmesan recipe is fried in oil and then smothered in sauce and cheese.
Since we are trying to make this a healthy chicken parmesan recipe, we will skip the frying part.
Coating the baking sheet with olive oil will keep the chicken from sticking and give the chicken a nice brown "fried" look.
In my opinion, it's better than fried.
Some baked chicken parmesan recipes call for cooking spray, but I think olive oil works best to achieve a flavorful crispy coating.
Marinara Sauce – You'll need ¾ cup of store-bought or homemade sauce for this chicken parmesan recipe.
If you don't use homemade, I strongly recommend using a high-quality brand spaghetti sauce. 
My favorite jarred sauces are Rao Marinara Sauce and Thrive Market Silician Gravy.
Rao's is a little on the pricey side, but you can find a big jar of it, for a great price, at Costco or BJ's Wholesale store.
Thrive Market's Silician Gravy is organic, delicious, and low in sugar. It's $3 less than Rao's and just as good, if not better.
Thrive Market is my go-to online natural and organic marketplace for grocery items. If you're a Thrive Market member, I strongly recommend adding a jar to your next box. Check out my Thrive Market review for more information.
Mozzarella cheese – It's not chicken parmesan without the cheese. I used shredded mozzarella or slices of mozzarella. Regardless of the type of cheese used, just make sure to portion it out before adding it to the chicken and sauce.  
Cheese can add a lot of extra fat and calories if you're not intentional with the amount.
FAQs
How long do you bake chicken parmesan in the oven?
Regardless of the oven temperature or how long you cook, the chicken breast's internal temperature when fully cooked should reach 165 degrees Fahrenheit. 
I recommend flipping the chicken breasts halfway through cooking time to get both sides crispy and browned.
In a 375 degree oven, bake the chicken parmesan for 35 – 40 minutes. 
In a 400 degree and 425-degree oven, bake the chicken parmesan for 20 – 25 minutes.
Do you need to cover chicken parmesan before baking it in the oven?
No, you can leave the chicken uncovered as it bakes.
The only time I recommend using foil is if you are adding the mozzarella cheese early. In this case, the foil will prevent the cheese from browning too fast.
What should I use in place of Italian seasoning?
If you don't have Italian seasoning, then ½ teaspoon of dried oregano and ½ teaspoon of dried basil.
Do I need eggs for the breadcrumbs to stick?
Some chicken parmesan recipes call for an egg wash to help the breadcrumbs stick to the chicken. However, I don't find that to be necessary with this easy chicken parmesan recipe.
I find it easier to flip the chicken when I leave the egg wash out.
However, if you want a thicker breadcrumb coating, then dipping the chicken breast in a beaten egg before dredging in the flour will help with that. 
Cooking Suggestions
Let's just sum up what we talked about for a delicious healthy chicken parmesan recipe.
Use high-quality boneless skinless chicken breasts. I prefer organic chicken breasts.
All the chicken breasts should be the same size and thickness to make sure everything bakes evenly.
Make homemade seasoned breadcrumbs. Remember, don't use panko because they'll fall right off the chicken.
Oil your baking sheet. This is how you get perfectly brown "fried" chicken breasts.
If you don't use homemade sauce, then pick up a jar of high-quality sauce like Rao's marinara or Thrive Market silician gravy. The flavor of the sauce will make a big difference in the results. For example, if you use a roasted garlic marinara, that will taste different than a plain marinara.
Use gluten-free breadcrumbs for a gluten-free chicken parmesan!
This baked chicken parmesan recipe is easy, and it's so delicious. You won't miss the fried classic, and honestly, I bet you will like it better. You can enjoy this Italian loved classic without all the guilt.
How to Make Baked Chicken Parmesan
Preheat oven to 375 degrees. 
Put the bread crumb mixture together. In a medium shallow bowl, mix the bread crumbs, seasoning, and cheese.
Trim the chicken breasts and then, using a meat mallet, pound out each chicken breast into cutlets. The chicken breasts need to be the same size, so they cook evenly. 
Coat a sheet pan with the olive oil. I find it helpful to use a pastry brush with this step.
Dredge each chicken cutlet in the breadcrumb mixture and place on the sheet pan. Discard the rest of the breadcrumb mixture.
Bake the chicken for 15 minutes. 
Turn over and bake for another 15 minutes.
Remove from the oven and, starting with the sauce, divide sauce and shredded mozzarella cheese on each chicken cutlet. 
Bake for another 7-10 minutes until the cheese melts and the chicken's temperature reaches 165 degrees Fahrenheit. Serve hot.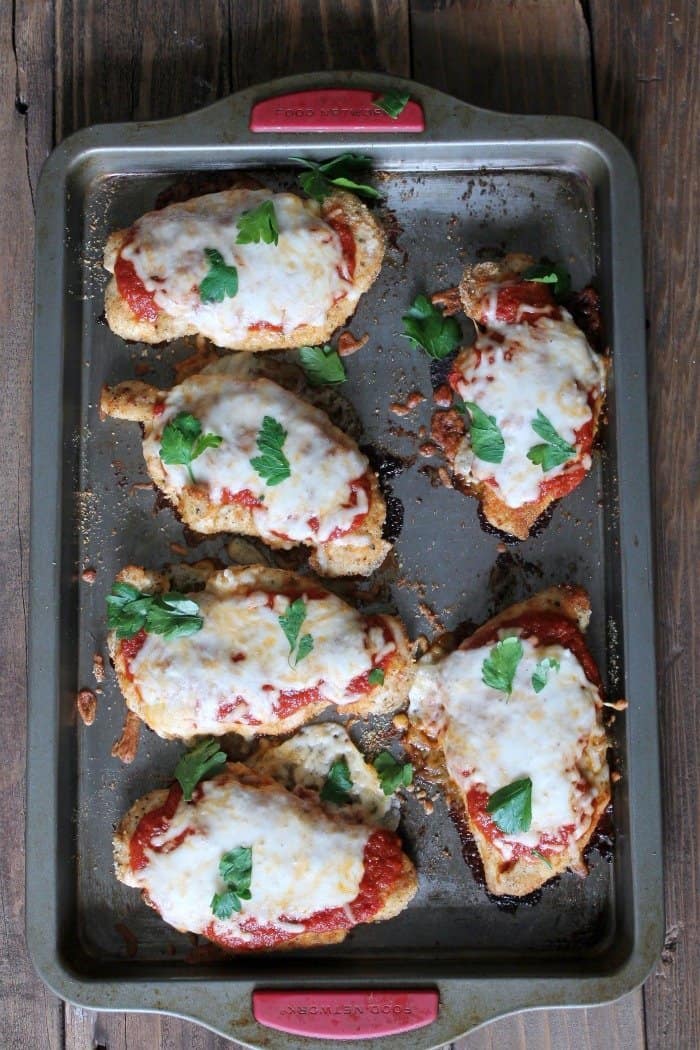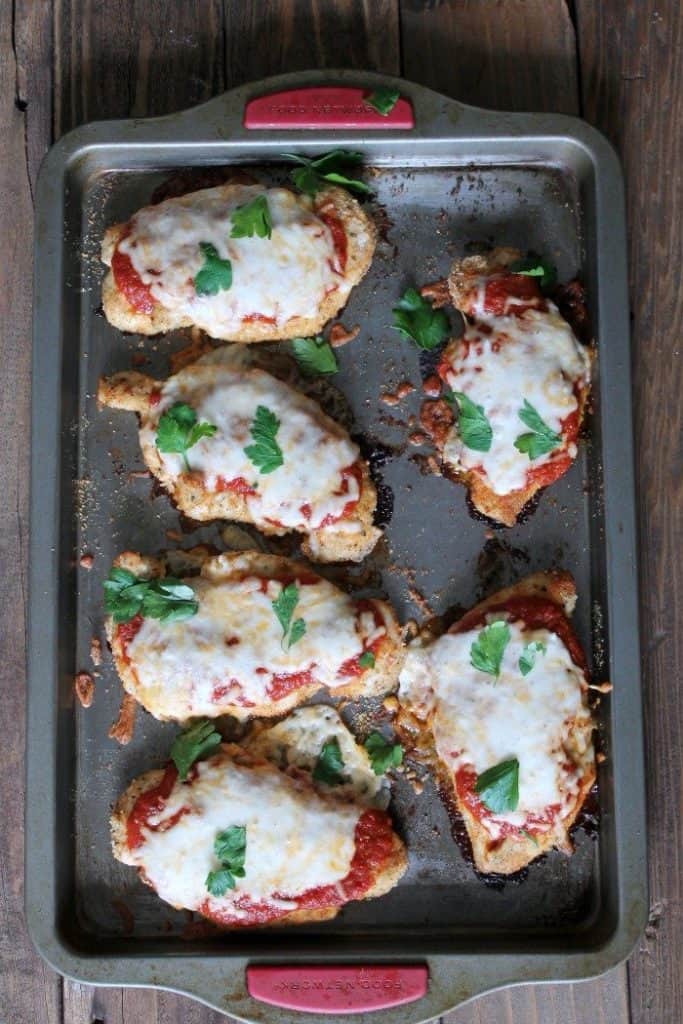 What to serve with healthy chicken parmesan?
Of course, classic chicken parmesan is served with spaghetti and sauce. Since this is a healthy chicken parmesan recipe, I recommend serving it with whole-grain pasta and a small salad. 
To keep things on the low carb side, skip the pasta and enjoy it with:
If you love your carbs, you can even serve this on a garlic roll as a chicken parmesan sandwich or sub. Yum!
Supplies to Prepare Healthy Baked Chicken Parmesan